Market Scorecard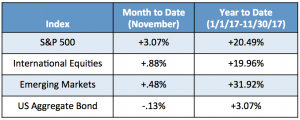 Figures provided above are estimate and for illustration purposes only
Monthly Commentary
The S&P 500 jolted higher in November along with other markets putting up a +3.07% return and bringing YTD returns in the index to over 20%.  The House and Senate both passed their own forms of tax legislation during the month which contributed to the gains.  Ultimately, the final bill will need to be negotiated before it can be put before the President.  Until the final bill is written, I don't want to speculate on what it's going to look like since every news outlet and research firm has conducted exhaustive research on this already.  Goldman warns that market valuations are at their highest since 1900.  They were quoted as saying "It has seldom been the case that equities, bonds and credit have been similarly expensive at the same time, only in the Roaring '20s and the Golden '50s," Goldman Sachs International strategists including Christian Mueller-Glissman wrote.. "All good things must come to an end" and "there will be a bear market, eventually" they said.
490 of 500 SP500 companies and all 100 of the Nasdaq companies have officially reported Q317 earnings with year-over-year EPS growth for the SP500 in Q317 was +7.0% and year-over-year EPS growth for the Nasdaq in Q317 was 21.3%.  This should bring valuations in the markets down slightly.  Combined with tax reform, the market may be backing off slightly from its incredibly high valuations.  Other recent US economic data has been strong with durable goods at a 37 month high, capex at 65 month high, new home sales at 120 month high, ISM services at 147 month high and ISM manufacturing at a 161 month high.
Bitcoin and other crypto assets are surging and are the talk of the town.  As of the time of my writing this, bitcoin is closing in on 12,000.  While I believe in the value of cryptography/blockchain and it's ability to transform certain industries, I'm much less bullish on the crypto assets themselves.  Everyone seems to be talking about it which scares me.  While everyone talked about the internet in 1999 as a way to transform business, lots of people lost a lot of money on stocks than were pure vapor.  A lot of similarities between 1999 and today exist in the crypto market.  Again, I believe in blockchain similar to the internet, but don't think most crypto assets will be around in 3-5 years.
My 2 Cents:
While things are looking pretty good, there are many cracks appearing under the service which I have highlighted in a different blog, Charts that frighten me.  Things are near the point, at the point or past the point of when good data starts to become less good.  I would be very cautious and not get sucked into the market because of FOMO.  If you've missed the run-up, you will have an opportunity to buy during the next downturn which will happen at some point in the near future.  If you're invested, hang on since the ride is going to get bumpy.
Charts, Charts & More Charts
These charts are rapid fire and in no particular order.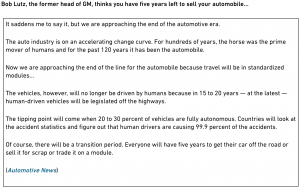 It would be interesting to see if GM could turn itself into a self driving, on-demand car company instead of simply selling them to end users.  Hertz is another company with a large fleet that could turn all its cars into self driving vehicles and compete with Uber, Lyft and other companies in the space.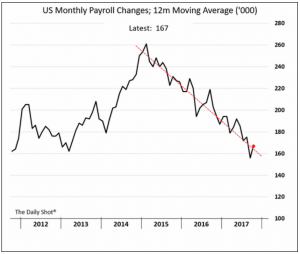 The 12 month moving average for payroll changes has been slowing since it peaked in early 2015.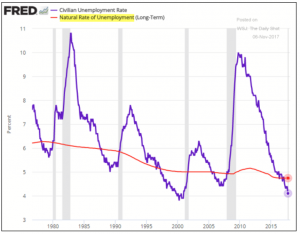 The civilian unemployment rate is incredibly low and don't believe it has much more room to go.  It's possible we'll see 3% unemployment rate but very unlikely.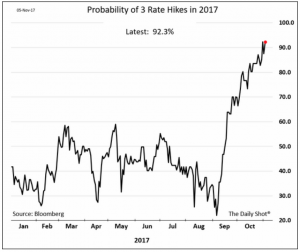 The treasury market is pricing in another rate hike for December and several for next year.  No wonder short term yields have been rising in preparation.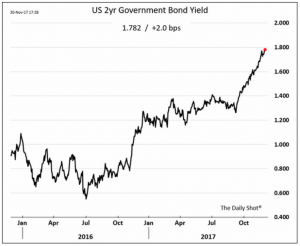 Here's the 2 year government treasury bond yield which is priced in a December hike.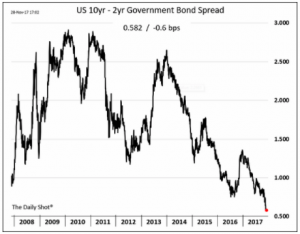 As I've highlighted in past updates, the difference between long and short term bonds is narrowing which we call a flattening yield curve.  The 10 year and 30 year treasury bond responds to inflation and growth expectations, both of which are moderate when looking out many years.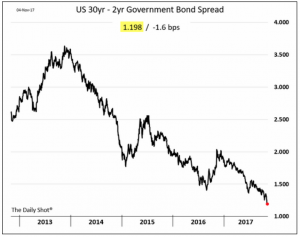 This shows the difference between the 30 year treasury bond and 2 year treasury bond.  The spread keeps narrowing as short term bond yields rise and long term yields remain stable.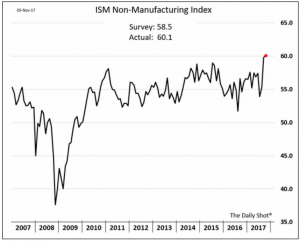 The service sector continues to expand as highlighted in the ISM non-manufacturing report.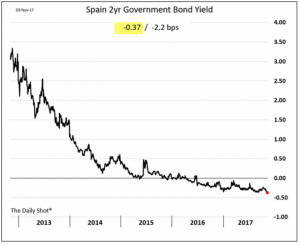 Interested in owning Spanish government bonds?  You'll have to pay them to buy a 2 year bond.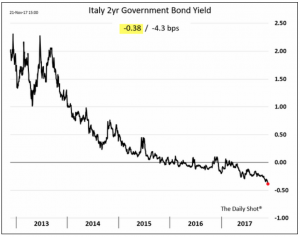 How about Italy?  You'll be paying them to own a 2 year bond as well.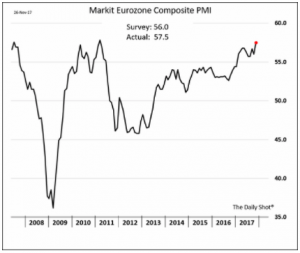 Eurozone purchasing managers index (PMI) continues to point to further expansion and growth.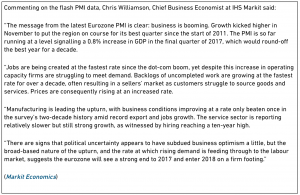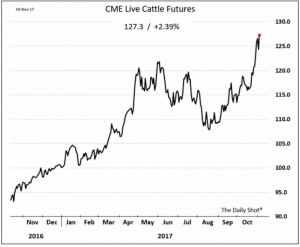 Where's the beef?  The cost of that steak or burger is about to go up.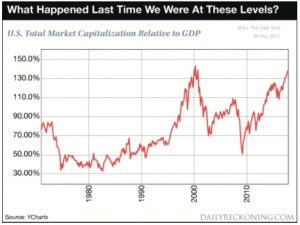 While this is single factor, it does point to an overvalued market relative to GDP.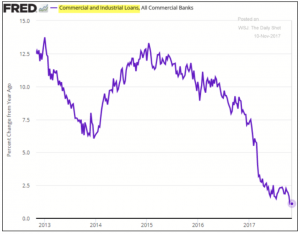 Loan growth has been decreasing and something to keep your eye on.  Negative loan growth is usually associated with recessions.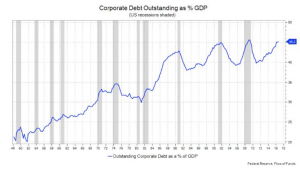 As highlighted in the previous chart, loan growth is slowing.  As a % of GDP, the last time it hit this range was followed by a recession.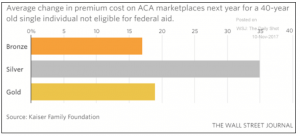 This has been widely publicized that the cost of insurance is going up.  Not fun for any of us especially while quality and coverage doesn't seem to increase.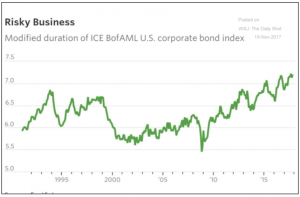 Duration in a bond portfolio is very important.  If you don't know yours, find out!  Or better yet, hire someone who understands what this means.  Essentially, whatever your duration will be your gain or loss in % terms if interest rates rise 1% on bonds with the same maturity.  Sorry if that's a mouthful but it's a little complicated.  Basically, if interest rates on bonds in the corporate bond index go up 1%, the value will decrease by over 7% as noted above.  If the index only pays a coupon of 3%, you're down 4% net.  The way I read this, risk is gone up and reward has gone way down at exactly the wrong time (IMO).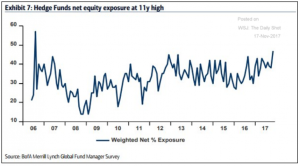 Hedge funds net exposure broke out of a range and now headed for the highest level since before the financial crisis.  Everyone seems to be buying into the market.
I hope you enjoyed this months financial markets update.  If you have any questions please contact us directly.  If you're interested in a topic that you'd like us to address, please email us so we can include them in future updates.
If you're interested in starting a dialogue and learning how we can help, please click the link below to book a call or meeting with us.
BOOK A MEETING OR CALL WITH ME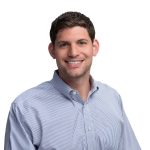 Best Regards,
Jared Toren
CEO & Founder
Proper Wealth Management's ("Proper") blog is not an offering for any investment. It represents only the opinions of Jared Toren and Proper . Any views expressed are provided for information purposes only and should not be construed in any way as an offer, an endorsement, or inducement to invest. Jared Toren is the CEO of Proper, a Texas based Registered Investment Advisor.   All material presented herein is believed to be reliable but we cannot attest to its accuracy. Opinions expressed in these reports may change without prior notice. Information contained herein is believed to be accurate, but cannot be guaranteed. This material is based on information that is considered to be reliable, but Proper and its related entities make this information available on an "as is" basis and make no warranties, express or implied regarding the accuracy or completeness of the information contained herein, for any particular purpose. Proper will not be liable to you or anyone else for any loss or injury resulting directly or indirectly from the use of the information contained in this newsletter caused in whole or in part by its negligence in compiling, interpreting, reporting or delivering the content in this newsletter.  Opinions represented are not intended as an offer or solicitation with respect to the purchase or sale of any security or financial instrument, nor is it advice or a recommendation to enter into any transaction. The material contained herein is subject to change without notice. Statements in this material should not be considered investment advice. Employees and/or clients of Proper may have a position in the securities mentioned. This publication has been prepared without taking into account your objectives, financial situation or needs. Before acting on this information, you should consider its appropriateness having regard to your objectives, financial situation or needs. Proper Wealth Management is not responsible for any errors or omissions or for results obtained from the use of this information. Nothing contained in this material is intended to constitute legal, tax, securities, financial or investment advice, nor an opinion regarding the appropriateness of any investment. The general information contained in this material should not be acted upon without obtaining specific legal, tax or investment advice from a licensed professional.