Clients & Friends,
June was a relatively muted month so we'll keep this month's update short and sweet. Some trends have persisted such as housing prices which continue to climb while inventory levels are at historical lows. The hottest debate now is whether inflation will be persistent or transitory. Battle lines are being drawn and portfolios are being adjusted. But even the Google searches for transitory may prove transitory ?.?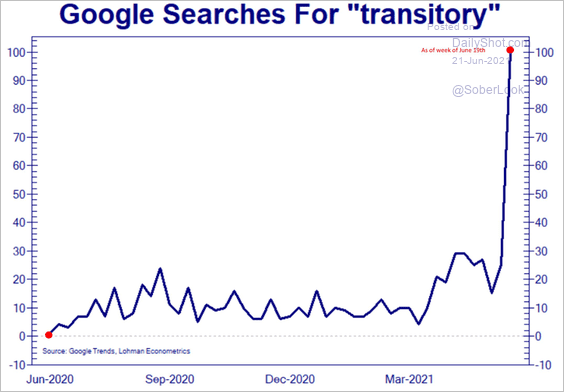 According to this survey by BofA, the transitory gang has more members.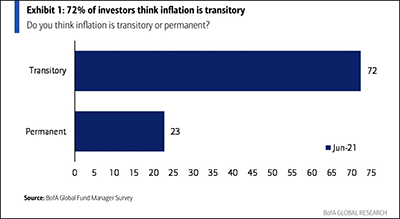 A key moment was when Jerome Powell made hawkish comments on the 16th on discussing scaling back mortgage bond purchases and rate hikes in 2023, which is sooner than expected. Long term bond yields spiked that day but ended up finishing the month lower than when they started. This is likely a confirmation signal to the transitory inflation gang and further supports their perspective. Equities sold off as well but ended up recovering and the S&P ended the month up just over 2%.
Last month we referenced seeing labor shortages and fast food companies having to pay $15+ minimum wage to entice workers which has continued. Goldman believes that when unemployment insurance ends it will be a catalyst and bring many unemployed back into the workforce.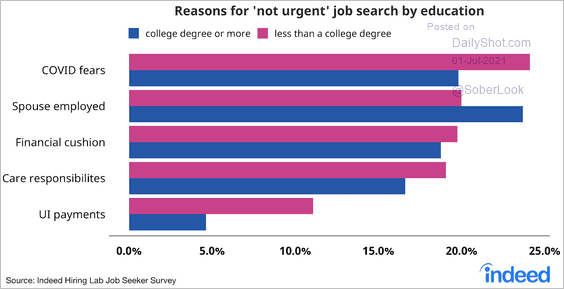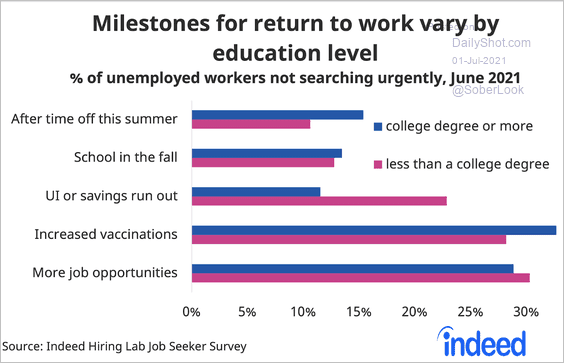 The term labor shortage is showing up more and more in public company transcripts as well as the concerns appear to be widespread.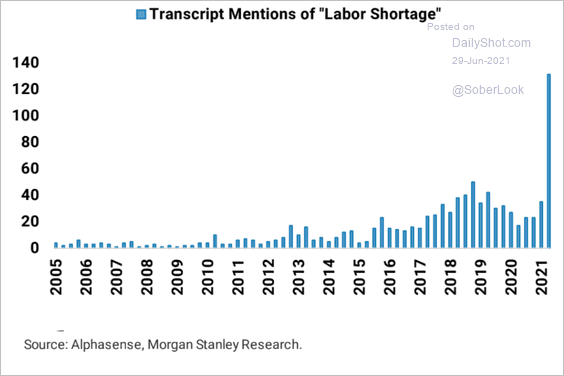 Oil prices are rising and have surpassed $75/barrel. As the post crash recovery in drilling has been slower this time around, oil inventories are below the 5 year average. Expect higher fuel prices at the pump as more people hit the road this summer as demand is expected to rise.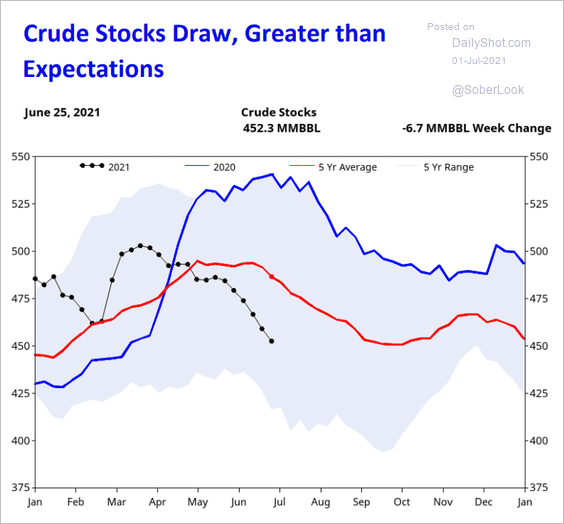 A big beneficiary from low interest rates are investment grade and high yield bond issuers as spreads (difference between treasury bonds and the yields they're able to sell debt at) are at all time lows. High yield bond spreads now sit below 2.70% which is the lowest on record. I'm truly amazed at who is enticed to buy junk bonds at such low return levels. High yield bonds have negative asymmetry since you can only make a fixed yield but can lose all of your principal in the event of a default. This is true for most bonds, however, junk bonds are no strangers to default.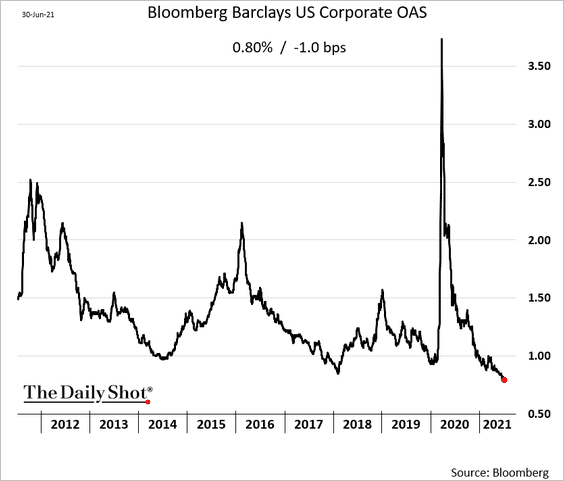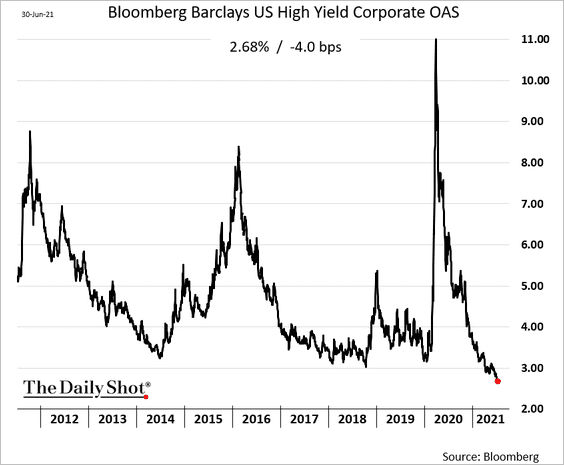 Freight prices are off the charts as of late. And shipping times on orders are taking longer and longer. It's something I've noticed as well on orders I've made where the time delays appear to be much longer than I can ever recall. This plays into the transitory inflation gang as most believe these price spikes are temporary. This bottleneck is being felt across many industries as well including semiconductor chips which car manufacturers cannot get in enough quantity.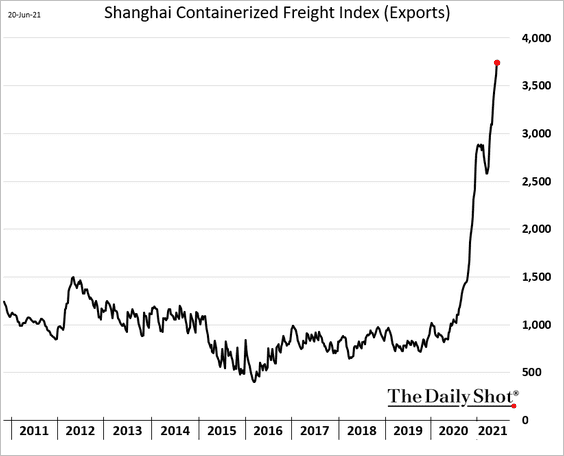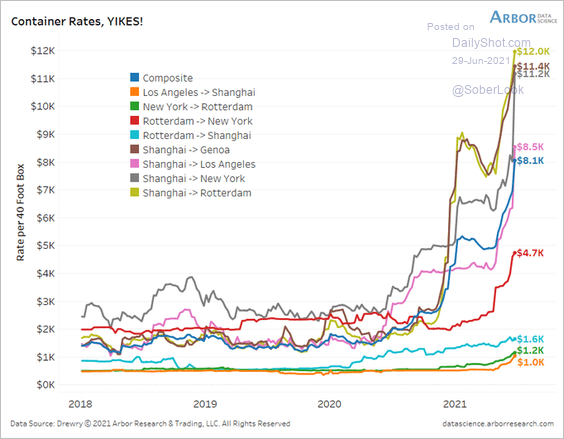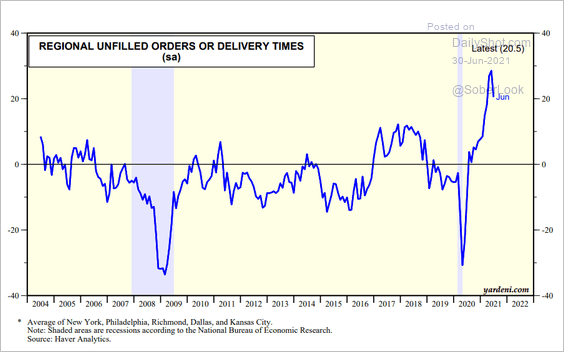 I'd be remiss if I didn't highlight a few things going on in the crypto markets. The # of active BTC and ETH addresses has fallen 24% and 30% respectively which coincides with their recent price drops (to be expected).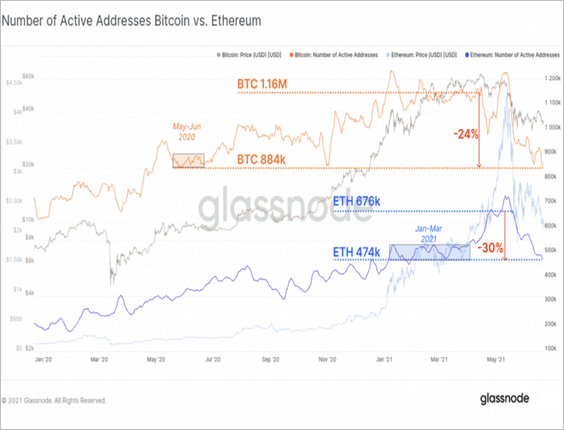 It's also coincided with a drop in BTC futures open interest.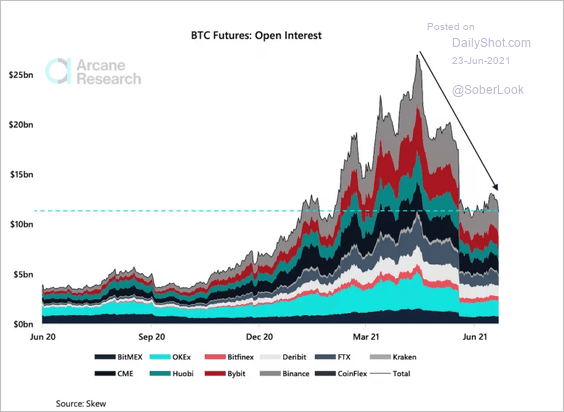 As painful as the recent decline in BTC price has been, it pales in comparison to 2018's decline of around 80% peak to trough.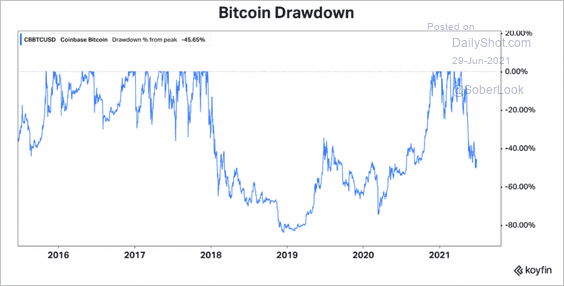 Crypto is another area of the markets where you have strong conviction on both sides as to whether this is the future or just another bubble. If you want to go down the rabbit hole, you can get lost in the debates on Twitter. Ultimately, crypto needs wide adoption to work and the amount of people calling it a fraud and/or vapor need to come around. There's a lot of capital flowing into the ecosystem via VC funds as a16z just raised a $2.2 Billion crypto fund. If you look at other funds within the ecosystem who've had returns of 10-25X over the past few years, you are likely to see capital recycled into more companies which I believe will perpetuate crypto's success and adoption. Guess you can see which gang I belong to ?.
I hope you found this month's update helpful and hope you all have a safe July 4th!
Best Regards,
Jared Toren
CEO & Founder
Sources: Edges & Odds, WSJ Daily Shot, 361 Capital, Steve Blumenthal's On My Radar
Proper Wealth Management's ("Proper") blog is not an offering for any investment. It represents only the opinions of Jared Toren and Proper . Any views expressed are provided for information purposes only and should not be construed in any way as an offer, an endorsement, or inducement to invest. Jared Toren is the CEO of Proper, and is a registered representative of Apollon Wealth Management, an SEC registered investment advisor. All material presented herein is believed to be reliable but we cannot attest to its accuracy. Opinions expressed in these reports may change without prior notice. Information contained herein is believed to be accurate, but cannot be guaranteed. This material is based on information that is considered to be reliable, but Proper and its related entities make this information available on an "as is" basis and make no warranties, express or implied regarding the accuracy or completeness of the information contained herein, for any particular purpose. Proper will not be liable to you or anyone else for any loss or injury resulting directly or indirectly from the use of the information contained in this newsletter caused in whole or in part by its negligence in compiling, interpreting, reporting or delivering the content in this newsletter. Opinions represented are not intended as an offer or solicitation with respect to the purchase or sale of any security or financial instrument, nor is it advice or a recommendation to enter into any transaction. The material contained herein is subject to change without notice. Statements in this material should not be considered investment advice. Employees and/or clients of Proper may have a position in the securities mentioned. This publication has been prepared without taking into account your objectives, financial situation or needs. Before acting on this information, you should consider its appropriateness having regard to your objectives, financial situation or needs. Proper Wealth Management is not responsible for any errors or omissions or for results obtained from the use of this information. Nothing contained in this material is intended to constitute legal, tax, securities, financial or investment advice, nor an opinion regarding the appropriateness of any investment. The general information contained in this material should not be acted upon without obtaining specific legal, tax or investment advice from a licensed professional.