Market Scorecard

Monthly Commentary
As in every other month this year, global stock markets continued their upward trajectory registering another 1-2% in additional gains.  Whether you file taxes in April or file for extension, tax day came and went as it always does each year although there's hope that a revised tax plan from the new administration will jumpstart anemic economic growth in the US.  Speaking of anemic growth, Q1 GDP was released and it was lackluster at best, registering just +.7% quarter over quarter (+1.9% year over year).  There was a large divergence in Q1 GDP estimates due to the widely publicized divergence between hard and soft data (explained in March and February updates).
Other noteworthy news that occurred during the month of April:
The 1st round of the French presidential election ended with Macron and Le Pen leading the way.  All bets are significantly favoring Macron defeating Le Pen in the runoff.  Sound like a familiar theme?
The US bombed Syria in response to chemical weapons being used against it's own citizens.  Some say this bombing was unconstitutional and should have needed congressional approval.
The Federal Reserve laid the groundwork on reducing the size of their balance sheet towards year end.  The market seems uncertain whether this will slow down their pace of interest rate increases, which they've telegraphed another 2-3 more this year.  With the Fed tightening and reducing their balance sheet, one can't view monetary policy as accomodative anymore.  Here's a quote from Lacy Hunt with Hoisington Research:

"…The Federal Reserve has initiated the fifteenth tightening cycle since 1945. Conspicuously, in 80% of the prior fourteen episodes, recessions followed, with outright business contractions being avoided in just three cases.  What is notable today is that the economy is in the 93rd month of this expansion, a length of time that is well beyond periods in prior expansions where soft landings occurred (1968, 1984 and 1995).  This is relevant because the pent-up demand from the prior downturn has been exhausted; thus, the economy is extremely vulnerable to a shock, which could lead to recession.  Regardless of whether there was an associated recession, the last ten cycles of tightening all triggered financial crises.  In conjunction with the non-monetary determinants of economic activity (referred to as initial conditions), monetary restraint served to expose over-leveraged parties and, in turn, financial crises ensued."

China reported growth of 6.9% in the first quarter, which is the best figure since 2015.
Tensions with North Korea are heating up again.
Some Q1 earnings have been released and the results are pretty darn good: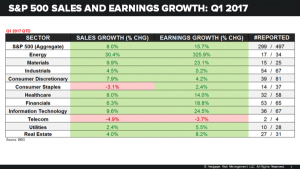 The administration released their tax proposal which lowered personal income brackets from 7 to 3 and lowers corporate tax to 15%.  Details were scant so we'll wait until more information is released before we pass judgement.  Here's the breakdown of the plan: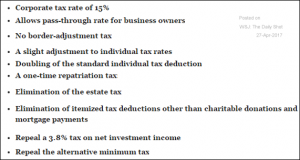 Noteworthy Research
Charts, Charts & More Charts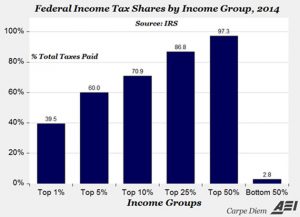 This chart shows that the top 1% of income earners in the US account for almost 40% of taxes paid.  The top 1% get a bad wrap in the media but a big thank you for paying the lion's share of the bill!

Another chart on taxes which show who in the US pays taxes based on income levels.  It might be difficult to produce a tax reform to benefit the low-middle class when they pay little or no income taxes currently.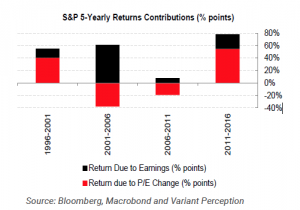 Returns in the stock market are driven by earnings changes and P/E changes (expansion and contraction).  Over the past 5 years, returns have mostly been driven by P/E expansion.

A very similar chat by JP Morgan which shows more data points.  Over the past 90 years, dividends have accounted for 4% of returns while appreciation has accounted for almost 6%.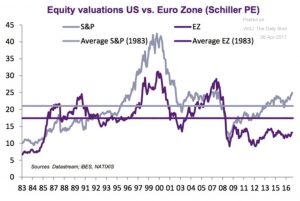 According  the above chart, Euro Zone stocks are undervalued relative to their average since 1983 while US stocks are overvalued.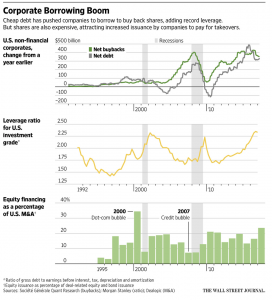 Great research by the Wall Street Journal which shows net debt, net stock buybacks, leverage ratios for investment grade companies and equity financing as a % of U.S. M&A.  All categories looking  very toppy.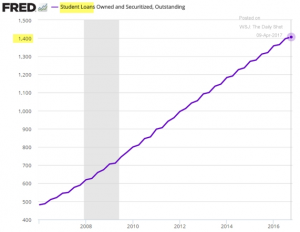 Student  loan debt in the US continues to climb to new heights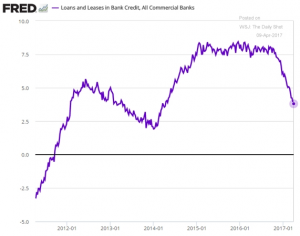 Although, the year over year change in loans and leases has slowed dramatically since the end of last year.  Speculation is that companies and individuals are waiting for tax and healthcare reform out of Washington since there's a lot of uncertainty surrounding policy at this time.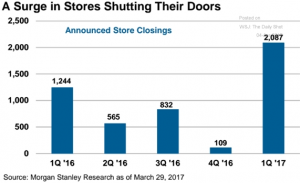 While Amazon continues to rocket higher, traditional brick  and mortar retailers are expected to close a lot of stores this year.  What will we do with all of that extra real estate?  Indoor drone racing perhaps…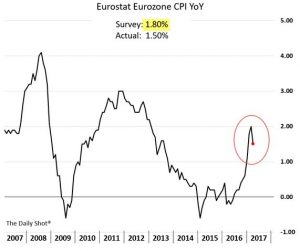 While CPI/inflation in the Eurozone has pulled back slightly, we are far off the lows when deflation was a fear.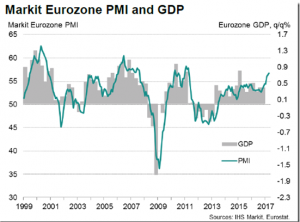 The Eurozone purchasing manager's index (PMI) has shows incredible strength and tends to closely track GDP.  Will we see GDP follow suit or is this another soft vs. hard divergence like we saw in the US.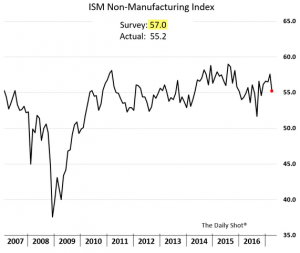 The ISM non-manufacturing survey (services) pulled back slightly.  This index is particularly important since services makes up the majority of our economy.  We are no longer a manufacturing economy which now only represents ~12% of GDP.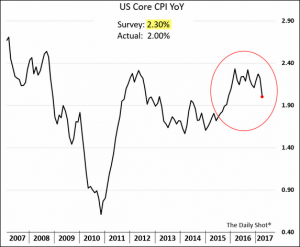 US Core CPI declined slightly after accelerating in 2016.  We are moving further away from the Fed's target.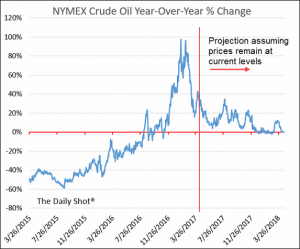 Oil is very important as it drives inflationary pressures in a variety of ways.  Since the year over year change in oil is very low, year over yea change in CPI will remain under pressure.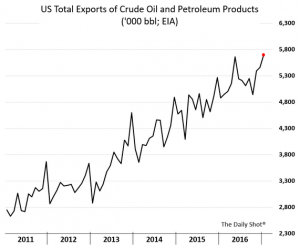 The US continues to export more and more crude oil.  Since the rig count keep rising as well as US crude production, I wouldn't be surprised to see our exports to continue to move higher.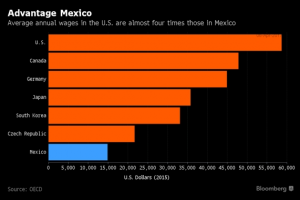 While Trump's initial tax plan didn't address a BAT (border adjustment tax), I wonder how much of a difference it would make.  Average wages in the US are almost 4 times more than Mexico so a BAT might not fully eradicate outsourcing to our Southern border.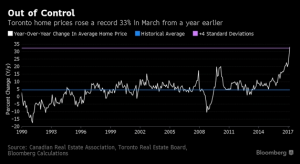 Housing prices in Toronto rocketed higher and are up 30% year over year.  Doesn't appear to be sustainable.  Home Capital Group, based in Canada, was accused of misleading investors and has been bleeding deposits.  Fears of contagion are making the rounds throughout the industry that look similar to the US mortgage crisis.  Read about what's happening here.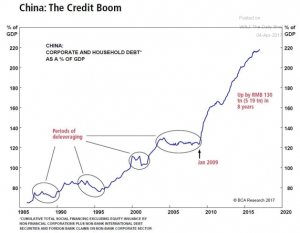 China's corporate and household debt levels continue to climb.  These levels have been on a tear since the financial crisis of 2009.
I hope you enjoyed this months financial markets update.  If you have any questions please contact us directly.  If you're interested in a topic that you'd like us to address, please email us so we can include them in future updates.
If you're interested in starting a dialogue and learning how we can help, please click the link below to book a call or meeting with us.
BOOK A MEETING OR CALL WITH US
Best Regards,
Jared Toren
CEO & Founder
Proper Wealth Management's ("Proper") blog is not an offering for any investment. It represents only the opinions of Jared Toren and Proper . Any views expressed are provided for information purposes only and should not be construed in any way as an offer, an endorsement, or inducement to invest. Jared Toren is the CEO of Proper, a Texas based Registered Investment Advisor.   All material presented herein is believed to be reliable but we cannot attest to its accuracy. Opinions expressed in these reports may change without prior notice. Information contained herein is believed to be accurate, but cannot be guaranteed. This material is based on information that is considered to be reliable, but Proper and its related entities make this information available on an "as is" basis and make no warranties, express or implied regarding the accuracy or completeness of the information contained herein, for any particular purpose. Proper will not be liable to you or anyone else for any loss or injury resulting directly or indirectly from the use of the information contained in this newsletter caused in whole or in part by its negligence in compiling, interpreting, reporting or delivering the content in this newsletter.  Opinions represented are not intended as an offer or solicitation with respect to the purchase or sale of any security or financial instrument, nor is it advice or a recommendation to enter into any transaction. The material contained herein is subject to change without notice. Statements in this material should not be considered investment advice. Employees and/or clients of Proper may have a position in the securities mentioned. This publication has been prepared without taking into account your objectives, financial situation or needs. Before acting on this information, you should consider its appropriateness having regard to your objectives, financial situation or needs. Proper Wealth Management is not responsible for any errors or omissions or for results obtained from the use of this information. Nothing contained in this material is intended to constitute legal, tax, securities, financial or investment advice, nor an opinion regarding the appropriateness of any investment. The general information contained in this material should not be acted upon without obtaining specific legal, tax or investment advice from a licensed professional.